Every year, the last day in February is designated as Rare Disease Day in the United States to recognize the nearly 7,000 diseases that each affect less than 200,000 Americans annually. Though individually rare, when taken together, rare diseases affect nearly 30 million Americans – or about one in ten people.
To celebrate Rare Disease Day this February 29, at least 35 State Houses across the United States held events to educate local legislators and constituents about rare diseases and to offer patient advocates the opportunity to voice their support for legislation and other efforts aimed at helping the rare disease community. Here in Massachusetts, the Massachusetts Biotechnology Council, a nonprofit organization that supports the local life sciences industry (of which Kerafast is a member), hosted two sessions in the Great Hall of the Massachusetts State House.
The first session focused on patient-centric care and drug discovery. Members from patient advocacy groups, clinicians, patients and caregivers, as well as representatives from pharmaceutical companies and FDA, weighed in on what strides have recently been accomplished in rare disease research and treatment – and also highlighted what still needs to be done. Some key topics of interest included:
The need for more and better collaboration among all the different rare disease stakeholders, including researchers, clinicians, advocacy groups, industry and regulatory bodies.
The importance of having patients' voices be heard. The panel encouraged advocacy groups to work together to affect change that will increase the pace of research and treatment, as well as remove barriers to care. In addition, advocacy groups can help address the isolation felt by many rare disease patients by providing a community for them.
Clinical benefit versus meaningful benefit for the patient, or the need to design clinical trials, outcomes and endpoints to reflect the value of a treatment to the patient. Regardless of the efficacy of a treatment, it needs to fit in with the patient's life; however, measuring quality of life can be difficult in clinical trials. We need to have consensus among the stakeholders about what meaningful outcomes are.
Many rare diseases are difficult to diagnose, taking years and countless visits to doctors and specialists that often require long distance travel. This places a large burden on patients and their families, and the process of determining a diagnosis can be extremely isolating for the patient.
The possibility of using combination therapies to better treat rare diseases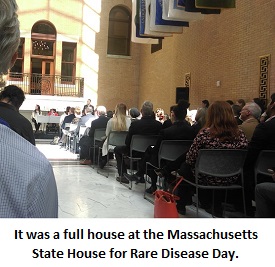 During the second session, several patients with rare diseases and caregivers of family members with rare disease spoke. These individuals recounted their stories and the difficulties of obtaining a diagnosis. They also highlighted their struggles with misdiagnoses and the barriers to accessing treatments – if they are even available. Only about 5% of rare diseases have cures.
It was clear that collaboration – all stakeholders working together – is the key to better and more treatments for rare disease. The Massachusetts Rare Disease Day event had nearly five hundred people in attendance, where just a few years ago there was a fraction of that. At Kerafast, we are looking forward to working with the research community to provide access to as many unique reagents as possible, hoping to do a small part in finding more treatments and cures to rare diseases. Some reagents currently available are listed below; if you would like to see any other materials added to our platform, please contact us at community@kerafast.com.